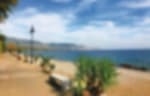 Corinth - Agii Theodori - Peloponese
Agii Theodori is on the coast before Corinth, the gateway to the Peloponese. Many Athenians have summer homes in this area and the little town has a beautiful pedestrian street by the sea. Many coffee shops, restaurants and beach bars are lining the sea front of the town.

Villa Mira
183 Palea Ethniki Odos Athinon Korinthou, Agii Theodori, 200 03, Greece
Isthmia
15KM west has beautiful coves and bridges and is surrounded by a pine forest that characterises the area since antiquity. It has a great archaeological site and museum with beautiful mosaics.
Corinth
24KM west is the town of Corinth. A modern town with a pedestrianised centre featuring pavement cafes, restaurants and top brand chains, all within sight of the sea past a statue of Pegasus, the winged horse of mythology.
The canal is located about 4KM east of the modern city of Corinth and is the top attraction of the town.
Loutraki
The seaside spa town of Loutraki was the ancient city of Thermae and has amazing thermal baths with mineral waters and also one of the largest casinos in Europe which attracts many visitors from Athens and other areas of the country. The town has a kind of "French-Riviera" style about it with its 3.5 km long pebbly beach that expands just in front of the city's lively seafront, lined with modern tall buildings, hotels, bars and cafes.
https://www.loutrakispa.gr/en
Lake Vouliagmnei & Heraion
Lake Vouliagmeni is located about 16 km northwest of Loutraki, very close to the archaeological site of Ireon. Around the perimenter of the lake there are sandy beaches with shallow turquoise blue waters. Close by is the Heraion of Perachora, the sanctury of the Goddess Hera
https://www.corinth-museum.gr/en/visit/you-can-also-visit/sanctuary-of-hera-perachora/
How to get here?
Airport: 90KM from Athens International Airport, approx. 55 minutes drive.